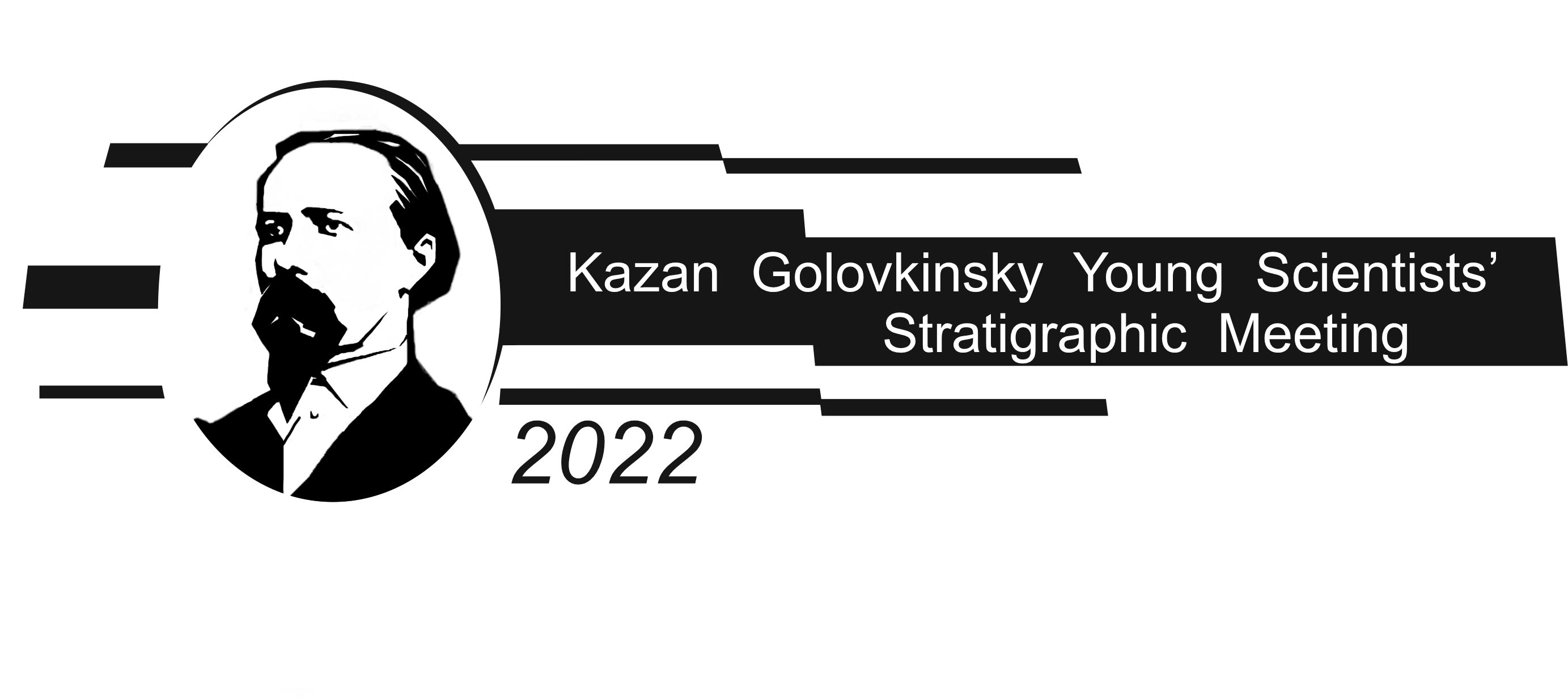 Kazan Golovkinsky Young Scientists' Stratigraphic Meeting 2022
"Sedimentary Earth Systems: Stratigraphy, Geochronology,
Petroleum Resources, Climate and Environmental changes"
October 17-19, 2022
Kazan, Russia
Dzhizak, Uzbekistan
Dear participants!
Link to join the conference:
https://us02web.zoom.us/j/82933777417?pwd=WWpyQmlJSUFCa0g2N0xFbnR0OGthdz09
Conference ID: 829 3377 7417
Access code: 627576
The official languages for the scientific program are Russian and English. Talks given in Russian
language should have English explanations in the PowerPoint presentations.
Poster presentations must be sent to urazaeva.m.n@mail.ru before October 16.
ORGANIZING COMMITTEE
Chairman of the Organizing Committee
Professor Danis K. Nurgaliev
Vice-Rector for Research of the Kazan Federal University
Director of the Institute of Geology and Petroleum Technologies
Vice-Chairman of the Organizing Committee
Dr. Sci. Vladimir V. Silantiev
Kazan Federal University
Vice-Chairman of the Organizing Committee
Dr. Sci. Marat F. Umarov
Director of the Kazan Federal University in
Dzhizak (Uzbekistan)
SCIENTIFIC PROGRAMME
October 17
10.00-10.10
Opening Ceremony

Co-Conveners: Danis K. Nurgaliev, Joerg W. Schneider, Vladimir V. Silantiev

10.10-10.30
Tolokonnikova, Zoya A., Petr V. Fedorov, Roman A. Gunchin

MAASTRICHTIAN (LATE CRETACEOUS) BRYOZOANS FROM PODVALJE OUTCROP (SAMARA REGION), RUSSIA

10.30-10.50
Fetisova, Anna M., Roman P. Veselovskiy, Mikhail P. Arefiev, Valeriy K. Golubev

MAGNETOSTRATIGRAPHY OF THE PERMIAN-TRIASSIC RED BEDS OF VETLUGA RIVER (CENTRAL PART OF THE EAST EUROPEAN PLATFORM)

10.50-11.05
Miftakhutdinova, Dinara N., Vladimir V. Silantiev 

TRACE FOSSILS AND SEDIMENTARY MODEL OF THE MIDDLE DEVONIAN CLASTIC SUCCESSION, SOUTHERN TATAR ARC, VOLGA -URAL PETROLEUM PROVINCE

11.05-11.20
Khayuzkin, Alexey S., Vladimir P. Morozov, Evgeniya V. Morozova, Nadezhda S. Zakharova

ROCKS WITH HIGH RESERVOIR CHARACTERISTICS IN DOMANIK TYPE OF DEPOSITS

11.20-11.35
Shabutdinov, Timur D. 

MENDYM HORIZON OF THE FRANSK TIER OF THE WESTERN SLOPE OF THE SOUTHERN URALS – ACTUAL RESEARCH TASKS

11.35-12.00
Zhuravleva, Natalia D., Ekaterina V. Lavrushina 

NEW DATA ON THE STRATIGRAPHY OF DEPOSITS IN THE INTERFLUVE OF THE ASSEL AND USTKALYK RIVERS (UPPER CARBONIFEROUS, LOWER PERMIAN, SARAKTASH DISTRICT OF THE ORENBURG REGION)

12.00-13.00
Lunch Break
13.00-13.15
Bakaev, Aleksandr S.

THE DENTAL SYSTEM OF PERMIAN ACTINOPTERYGIAN FISHES KAZANICHTHYS VIATKENSIS (ACROLEPIDIDAE) AND EURYSOMUS SOLODUCHOI (PLATYSOMIDAE) FROM EUROPEAN RUSSIA AND ITS IMPLICATIONS FOR PALAEOBIOLOGY AND PALEOECOLOGY

13.15-13.30
Karaseva, Ulyana V., Aleksandr S. Bakaev

ACTINOPTERYGIAN MICROREMAINS FROM THE PERMIAN OF THE NIZHNY NOVGOROD REGION (RUSSIA)

13.30-13.45
Ormonov, Sultan A., Almaz I. Mullakaev, Rinat R. Khasanov

RESTORATION OF CONDITIONS OF TRANSPORTATION AND SEDIMENTATION OF PERMIAN BITUMEN SANDSTONES

13.45-14.00
Zharinova, Veronika V. 

MICROSCULPTURE STUDIES OF LATE PERMIAN, EARLY TRIASSIC AND MODERN CONCHOSTRACANS

14.00-14.15
Hamada, Nadia, Konstantin I. Nikashin, Svetlana O. Zorina, Nadezda I. Afanasieva, Bulat I. Gareev

NEW DATA ON THE NATURE OF PALEOGENE CONFLUENT SANDSTONES OF THE SOUTH-EASTERN RUSSIAN PLATFORM

14.15-14.30
Glukhov, Mikhail S., Rail I. Kadyrov, Evgeny O. Statsenko, Alina A. Glukhova

SEGMENTATION OF MINERAL PHASES IN 3D IMAGES OF RESERVOIR ROCKS
POSTER SESSION
Glukhova, Alina A., Mikhail S. Glukhov, Rafael Kh. Sungatullin, Rail I. Kadyrov 
MINERAL MICROINCLUSIONS IN ROCKS OF THE KAMSKO-USTINSKY GYPSUM DEPOSIT, REPUBLIC OF TATARSTAN
Khamidullina, Galina S., Danis K. Nurgaliev
STUDY OF STRUCTURE OF UST-CHEREMSHANSKY DEFLECTION OF KAMA-KINEL DEFLECTION SYSTEM BY PULSE ELECTRIC EXPLORATION
Leonova, Tatiana B. 
ECOLOGICAL ANALYSIS OF THE ASSELIAN-SAKMARIAN AMMONOID ASSEMBLAGE OF THE STERLITAMAK SHIKHANS
Makoshin, Victor I., Ruslan V. Kutygin
ASSELIAN–SAKMARIAN BRACHIOPOD ZONATION FOR THE LEFT BANK OF THE LOWER REACHES OF THE LENA RIVER, NORTHEAST RUSSIA
Makoshin, Victor I., Ruslan V. Kutygin
ON THE TERMINAL ASSEMBLAGE OF THE VERKHOYANIAN COMMUNITY OF PERMIAN BRACHIOPODS IN SOUTHERN VERKHOYANIE, NORTHEAST RUSSIA
Mouraviev, Fedor A., Tatiana V. Kropotova, Bulat I. Gareev, Georgii A. Batalin
URZHUMIAN PALEOSOLS FROM GREBENI SECTION OF KAZAN VOLGA REGION
Yulia A. Suchkova
FIRST EVIDENCE OF HEALED TRAUMA IN PERMIAN THEROCEPHALIAN (THERAPSIDA, THEROMORPHA)
Uskova, Polina D., Konstantin N. Shatagin
Rb-Sr ISOTOPE DATING OF "BIOTITE-70" REFERENCE SAMPLE: ACID PARTIAL DISSOLUTION RESULT
Yusupova, Anastasia R.
THE PRELIMINARY DATA OF MAGNETO-MINERALOGICAL COMPOSITION OF LACUSTRINE SEDIMENTS OF LAKE KANDRY-KUL
CONTACTS
Vladimir V. Silantiev
Kazan Federal University (Dzhizak, Uzbekistan)
+998 99 014 1408
vsilanti@gmail.com